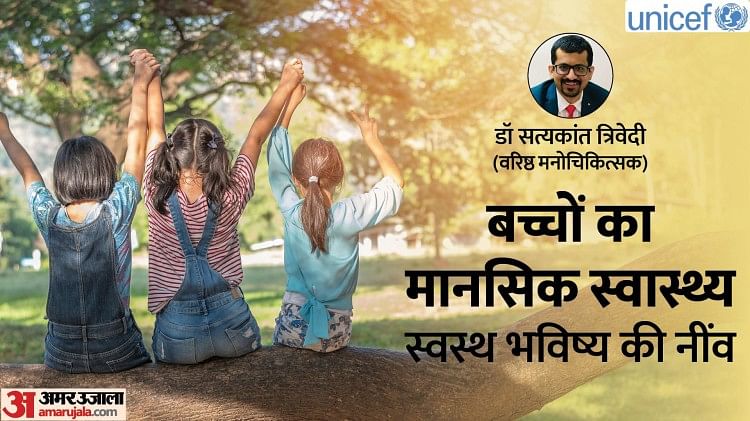 Need to pay serious attention to the mental health of children
– Photo: Amarujala graphic
Expansion
Without a healthy mind, a healthy body cannot be imagined. When it comes to the health of children, it needs to be given more serious attention, because the seriousness or carelessness shown on this subject today will result in the future. There has been a spurt in efforts made in recent years to improve mental health globally, but the recognition that children can also be victims of mental health disorders is still seen at a superficial level. Now when there is a lack of acceptance, it is natural for the scope of efforts to be less.
However, the contrary figures are quite worrying. A report by the American Psychological Association shows that more than 20 million (two crore) children and youth in America alone are struggling with some kind of mental health problem. According to the US Department of Health and Human Services, one in five children aged 3-17 years has a mental, emotional, behavioral disorder. Similarly, one in seven children in India and Bangladesh, one in ten children in Ethiopia and Japan have been found to be depressed. Statistics from about 21 such countries show that an average of one in five children is living with a mental disorder. Increasing cases of suicide among children have also been reported on the rise in recent years. These figures emphasize the serious need for attention and counseling-treatment of mental health problems globally.
The United Nations International Children's Emergency Fund (UNICEF) continues to work to protect the rights and well-being of children. To understand the growing challenges and the risk of mental health problems in children and what kind of efforts are necessary on this, we have Senior Psychiatrist Dr. Satyakant Trivedi Conversed with Dr. Satyakant is a key member of the Suicide Prevention Policy Drafting Committee constituted by the Government of Madhya Pradesh for suicide prevention.